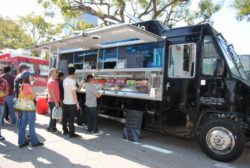 The food truck industry, which is the fastest-growing channel in today's food service industry, has grown by 12.4 percent over the past five years.[1]
The food truck trend continues to accelerate as entrepreneurs use them to enter the restaurant industry and sometimes spin off brick-and-mortar operations.
The mobile food industry is in it's seventh year of consistent growth and the 2015 food truck industry statistics show that annual food truck revenue is at $1.2 billion.
A representative at Emergent Research stated that, as projected in 2012, food trucks are on track to be a $2.7 billion dollar industry by 2017.

Food Safety Training - 10% OFF SALE
Learn about cross contamination, cold and hot food safety, best practices for personal hygiene, and foodborne illnesses.
Food Manager ANSI Certification: SALE $99.00 - Valid in all States
Food Handler ANSI Training for only $7.00!
Enter Promo "train10off" at Checkout
The phrases "Food Truck", "Mobile Food Vendor" or "Mobile Food Facility" refers to several different types of vehicles that food is sold from. Some examples include: lunch trucks, vending trucks, concession trucks, sandwich trucks, taco trucks, loncheras, catering vehicles, ice cream trucks, and hot dog carts.
Food Truck Industry Statistics – 2015
| | |
| --- | --- |
| Food Truck Industry Statistics | Data |
| Annual food truck revenue | $1,200,000,000 |
| Industry revenue increase over the past five years | 12.4 % |
| Total number of food trucks in the U.S. | 4,130 |
| Average revenue generated per food truck | $290,556 |
| Average spending per order at a food truck | $12.40 |
| Average cost of food truck | $85,000 |
Source:  Statistic Brain: Aug 2016
The mobile food services industry includes operations such as ice cream trucks, food concession stands, hot dog carts, and food trucks. Food trucks are relatively inexpensive investments compared to most other food services, requiring little more than a street permit. This has allowed more people to open such a business.
The number of mobile food service establishments more than doubled in the past decade, from 1,600 in 2006 to 3,600 in 2015. Despite increasing steadily over the last 10 years, wages for mobile food vendors remain low.
The average mobile food vendor earns just $17,571 annually, about $2,000 less than the average across the food services sector as a whole and $35,000 less than the average for all occupations.
References:
[1] Statistic Brain: Aug 2016