California Mobile Food Trucks – California Food Handlers
California food handler safety training is necessary for employees in the mobile food truck and mobile food vendor service and hospitality industry. The phrases "Mobile Food Truck" and "Mobile Food Vendor" refers to several different types of vehicles that food is sold from. Some examples include: lunch trucks, vending trucks, concession trucks, sandwich trucks, taco trucks, loncheras, catering vehicles, ice cream trucks, and hot dog carts.
California food safety training that an employee is required to have in a mobile food truck business (where food is prepared and served) is also called a food handling permit, a license, certificate, card, or credentials. This permit shows the municipality and their inspectors, that the holder has had training in food safety basic practices to prevent food borne illnesses.
The California food truck – food handler training course is online, easy to use and takes about 2 hours to complete. The course is ANSI-accredited, state-approved and will take you step-by-step through everything you need to know, including food safety definitions, safe hygienic practices, safe food temperatures, cross-contamination of food, and food-related illnesses. All food safety content materials and exams are available in both English and Spanish.
Start now and obtain your California mobile food truck – food handler's training permit!
California Food Handler Training Course & State Info
Food Handler Course Description
The Food Handler Training course will discuss the various food safety issues, regulations, and techniques needed to maintain a food-safe environment. It will help the student better understand how handling food correctly is not only the law, but it improves safety and reduces risks.
At the conclusion of the course, the learner will be tested on their knowledge of the learning objectives and content. Upon successfully passing the exam, the learner will be issued a Food Handler's Certificate document (or card).
Audience:  Chefs, cooks, mobile food vendors, bartenders, host/hostesses that handle food, bussers, caterers, wait staff,servers, supervisors and managers, food warehouse staff, and convenience store (c-store) clerks.
Credit Hours: 2 hrs
Learning Objectives:
Upon completion of the Food Handler Training Course students will be able to:
Identify food safety: its importance, goals, benefits, impact, and proper adherence
Identify the importance food safety training: issues, regulations, and techniques to maintain a food-safe environment
Identify the types of foodborne illness and food spoilage and their causes and signs
Identify the types of food contamination: biological, physical and chemical
Enact the proper food temperature controls and time practices
Enact the proper procedures to safely prepare, handle and store food
Implement proper personal hygiene and health practices in the food workplace
Implement the proper procedures of purchasing, receiving and storing food
Enact proper cleaning and sanitation methods in the food workplace
Identify the signs and enact the eradication procedures for pest infestation
Course Topics:
Lesson 1: Introduction to Food Safety
Lesson 2: Biohazards, Foodborne Disease and Food Spoilage
Lesson 3: Contamination
Lesson 4: Food and Temperature Control
Lesson 5: Preventing Food Contamination
Lesson 6: Food Receiving and Storage
Lesson 7: Sanitizing
Lesson 8: Pest Control
End of Course Test – Print Your Food Handler Training Certificate
As soon as you complete the food handler course – with a minimum seat time of 75 minutes – you will then be required to take the End of Course Test
With a minimum passing score of 75% on the test,  you will be able to download and print your food handler training certificate of completion.
Individuals who do not pass the food handler training test on the first attempt will be allowed one additional attempt to review the course content and pass the test.
Renewing Your Food Handler Certificate
To renew your Food Handler Certification, you must complete the food handler training course again. The entire course must be generally taken every three years to renew your certificate. However, in a few local jurisdictions this may vary, so make sure to check with your local health authority.
Food Handler Course Accreditation – ANSI Accredited ID 0975
Our Learn2Serve food handler training course program has been accredited by the American National Standards Institute (ANSI) in accordance with the standard set by American Society for Testing and Materials (ASTM). This national level certification for food handlers is valid in all 50 states.
Source: ANSI – Food Handler Training Course
Gaining an accreditation from ANSI for the Food Handler Certificate Training Program means quality training that produces a food handler workforce more qualified than those without this Certification. Be a certified food handler. Take the ANSI-ASTM  Food Handler Certificate Training Program today!
Course Summary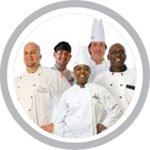 ANSI Accredited – State Accepted
Course Duration: 75 mins
Take course anywhere and anytime!
Download certificate upon completion!
Available en Español
24×7 Support: (877) 881-2235 – Online
California Mobile Food Truck – Food Handler Training Card
Price: $7.00
Combo Package: California Mobile Food Truck – Food Handler Training Card & Responsible Alcohol Beverage Service Training
Price: $18.50
Save Big with Group Rates
Get huge discounts by enrolling and training all your employees. Enjoy tailored corporate solutions and training services – a free cloud-based LMS and even consulting services. Track progress, generate reports, and manage learners online. More Info
Accepted Statewide
We offer online Mobile Food Truck – Food Safety Training in California for: Los Angeles, San Francisco, San Diego, San Jose, Sacramento, Fresno, Long Beach, Bakersfield, Santa Ana, Oakland, Anaheim, Santa Ana, Riverside, Stockton, Chula Vista, Irvine, Fremont, San Bernardino, Modesto, Oxnard, Huntington Beach, Garden Grove, Oceanside, Santa Rosa, Berkeley, and many more!
Getting your California Mobile Food Truck – Food Handlers Training Card couldn't be easier!
California Food Truck – Food Safety Training accepted in these counties: Los Angeles County CA,Orange County CA,San Diego County CA,Riverside County CA,San Bernardino County CA,Santa Clara County CA,Alameda County CA,Sacramento County CA,Contra Costa County CA,Fresno County CA,Ventura County CA,San Francisco County CA,Kern County CA,San Mateo County CA,San Joaquin County CA,Stanislaus County CA,Sonoma County CA,Tulare County CA,Solano County CA,Monterey County CA,Santa Barbara County CA,Placer County CA,San Luis Obispo County CA,Santa Cruz County CA,Merced County CA,Marin County CA,Butte County CA,Yolo County CA,El Dorado County CA, and many more!